Jurassic World: Dominion Dominates Fandom Wikis - The Loop
Play Sound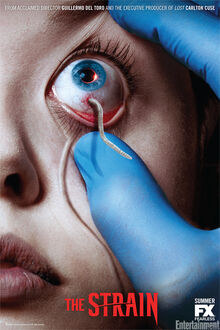 The Strain is a vampire horror television series starring Richard Joseph Warburton, it that was created by Guillermo del Toro and Chuck Hogan, based on their novel trilogy of the same name. Del Toro and Hogan scripted the pilot episode, which was directed by del Toro. A thirteen-episode first season was ordered on November 19, 2013. 
Based upon a three-novel book series, Cuse said he expects The Strain to last between three and five seasons. The first season will cover the first book, and after that producers will decide how far to stretch the two remaining novels.[1]
Overview
[
]
Season 1

[

]
A plane lands at John F. Kennedy International Airport with lights off and doors sealed. Epidemiologist Dr. Ephraim Goodweather and his team are sent to investigate. On board they find two hundred corpses and four survivors. The situation deteriorates when the bodies begin disappearing from morgues. Goodweather and a small group of helpers find themselves battling to protect not only their own loved ones, but the entire city from an ancient threat to humanity. 
Season 2

[

]
Begins Sunday, July 12 at 10pm (CDT) on FX.
Season 3

[

]
New York has been written off by the central government, and our rag-tag group of unlikely heroes are left to fend for themselves.
Season 4

[

]
Final season aired in 2017, on FX.
Production/Development
[
]
Music

[

]
Ramin Djawadi has been hired to score the upcoming FX drama The Strain.[2] Djwadi has previously collaborated with Del Toro on Pacific Rim. He is also scoring the season of CBS' Person of Interest and will return to score the fourth season of HBO's Game of Thrones.
Press

[

]
On how FX will handle the trilogy, Langraf said, "It's a trilogy, and the trilogy ends the story. It's a truly epic story. And when Guillermo [del Toro] came in to sell it, one of the things they made clear is that they wanted to tell the story of the books. That story would be told over three, four or five seasons. They have work to do, in terms of figuring out how they are going to resituate that story, in an episodic television series, but it will be somewhere between 39 and 65 episodes. No less and no more, and I'm really excited about that.[3]
Cuse also commented on the timespan of the show: "Producers are looking at the series for either a three or five season run with season one covering the first book in the trilogy. Once producers break a second season -- if the series is successful -- they will examine if the final two books should be one season each or split up into multiple seasons." [4]
References
[
]