"The Silver Angel" is the fourth episode of  Season 2 of The Strain. It first aired on August 2, 2015.
The episode starts off with a short, black and white movie that starred a famous luchador, The Silver Angel, whose career ended after an injury to his leg during the film shoot. Setrakian has a flashback to 1966, when he and Eldritch Palmer learned of an Austrian nunnery that may hold the Occido Lumen. The only survivor was a child called Rudyard Fonescu, as the others had been turned into Vampire (Strigoi). The boy tells Setrakian that the Lumen was burned by the Mother Superior, due to her belief in it being evil. While Setrakian is elsewhere in the nunnery, fighting off Strigoi, Palmer is met by Thomas Eichhorst. Eichhorst plays on Palmer's longing for immortality, hinting at the promise of receiving it. By the time Setrakian returns, Eichhorst is nowhere to be found, and Palmer claims he no longer holds any interest in continuing the search for the Lumen with Setrakian. This ends their alliance, and also impacts their future dealings with one another.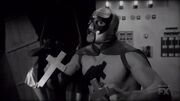 When the flashback ends and returns to the current day, Palmer is seen hosting a meeting with the financial leaders of the world, leading them to believe that the meeting was intended to be about restoring New York's financial stability. The meeting turns out to be a trap, and Bolivar commands the Strigoi to kill all of the financial leaders, resulting in a global crash of the financial markets.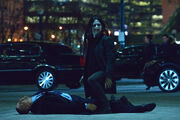 Gus escapes the Stoneheart business building to return home, where he finds his mother possessed by the Master. The Master taunts Gus by doing so, and Gus leaves to escape from it. He enters a restaurant, where he flirts with the waitress. As a result, he is confronted by the dishwasher, as the waitress is the owners' daughter. The dishwasher man turns out to be the Silver Angel, which Gus realizes not long after, as he was his idol as a child.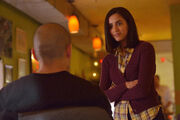 Setrakian and Dutch search for Fitzwilliam's help and alliance against Palmer, and so travel to Staten Island, where he is currently residing. Unfortunately for them, Fitzwilliam is unwilling to assist them.
The bio-weapon that Eph and Nora were working on is being field-tested. Several Strigoi are infected, prompting the Master to force the infected Strigoi to commit suicide in order to stop the spread, confirming to Eph and Nora that the weapon works.
Fet lays several explosives inside the Red Hook subway, detonating them so that the rubble blocked the tunnel, preventing any Strigoi from getting through. After detonating them, he is caught and beaten by Justine's acting police squads.
Meanwhile, Kelly and the Strigoi Feelers are inching ever more closely to Zach.
Vasily Fet: They say one out of every four people are mentally unstable.
Nora Martinez: Luckily there's only three of us.
Vasily Fet: Not unless you include my invisible friend Donny.
---
Abraham Setrakian: Help me rid the evil from this world.
Eldritch Palmer: There will always be evil in this world, Professor.
---
The Master: The ancients are the past. I am the future.
Augustin Elizalde: Guess what. I'm not fighting for the Ancients. I'm not fighting for nobody but myself.
The Master: Cowardice. Ignorance. I sensed both as you ferried my coffin across the bridge into this city.
Augustin Elizalde: If that's the case, then what am I to you? Huh? What do you want from me?
The Master: Your mother's disappointment is still here. The torment you put her through in life. It lives along with her dumb animal love for her criminal son.
Augustin Elizalde: Taking someone's soul is not enough for you? You gotta put on their skin and dance around in their body?
The Master: Of course you fight for yourself. You always fight for only yourself.
---
Abraham Setrakian: You may have resigned from Stoneheart, but you haven't resigned from Eldritch Palmer. You remind me very much of your father. You can break this chain of misguided loyalty once and for all. I don't think you're afraid of him. I think you think it's too late. That evil has already won. I don't believe that for a second. When you change your mind, we can be reached at this address.
Reggie Fitzwilliam: I'm not gonna change my mind.
Abraham Setrakian: Yes, you will. You already have.
Palmer and Setrakian visit what is called a nunnery, but there are no women in sight, and there are men and boys dressed as monks. A Mother Superior is mentioned in regards to destroying the Lumen, but Roman Catholic monasteries are never mixed sex.
In the 1960's, Setrakian says that someone went to Belarus, but the former Soviet Republic was actually called Byelorussia at the time.
Disturbed skeleton in a crypt in 1966. The lower leg resting near the skull has a ring bolt sticking out of it at the top of the tibia fibula. It was probably a scientific model before becoming a special effect.
References