"The Born" is the seventh episode of  Season 2 of The Strain. It first aired on August 23, 2015.
Fet and Dutch find Nikki, Dutch's roommate, hiding in Dutch's apartment. Nikki is brought to their hideout, causing Fet to become jealous when he finds that Dutch and Nikki were more than just roommates.
Following the information that Fitzwilliam gave them, Setrakian and Fet check out Palmer's abandoned factory, discovering that it was serving as a nursery for the Feelers. They are then attacked by the Feelers, and the Feelers are fought off by the anonymous Strigoi shown previously. The Strigoi introduces himself to Fet and Setrakian, calling himself Quinlan. He tells them that is searching for the Master, as he wishes to destroy him.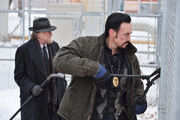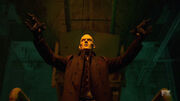 The episode flashes back to moments in Quinlan's past, revealing that he is a human and Strigoi hybrid, and that he was a powerful and ferocious gladiator in ancient Rome.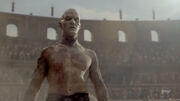 Quinlan, accompanied by Setrakian, confronts the Master in the factory, where he is currently residing. They find that the Master is not alone, but that Eichhorst is with him, as well. Fet places explosives in one of the upper rooms of the building, setting them off. When the explosion goes off, the Master uses it as a means of escape, as it blocked the hall, preventing Quinlan and Setrakian from reaching him. Quinlan, enraged, takes his anger out on Setrakian and Fet, saying that they had ruined his chance at destroying the Master. He then tells them that they should stop hunting the Master and, instead, leave him to do it.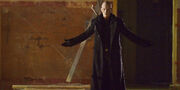 Coco and Palmer share an intimate moment, in which they are shown heading off to Palmer's bedroom together.
Eph returns from Washington D.C. and learns of the altercation with Kelly, and just how close she was to taking Zach. Eph reveals to Nora that Palmer is the one behind the Master's plans. Knowing this information, Eph becomes set on killing Palmer, and later vows to Fet that he will do so.
In the scene of Coco and Palmer in a helicopter. Its registration is C-GTMI. Aircraft in Canada (where the series is filmed) all have registrations beginning with C. Aircraft registered in the US (the setting for the show) are identified with an initial N.
Mr. Quinlan: I see you've been hunting the Master for some time.
Abraham Setrakian: Most of my life. You?
Mr. Quinlan: All of mine.
Mr. Quinlan: [to The Master] So it is "Sardu" now? Your new host body no longer requires this fine cane. You knew I would hear of the strange tale of the possessed giant and come for you. I suppose that's why you left these here. To taunt me. But your vigilance belies a deeper concern. Your fear.
The Master: Welcome to the new world.
Mr. Quinlan: I see you had little time to prepare your new vessel.
The Master: I chose this host for its loyalty. Something you know nothing about.
Mr. Quinlan: It lacks intimidation.
Abraham Setrakian: His disappearance coincided with the fall of the Roman Empire. While his immediate fate was unknown, sightings persisted throughout Eurasia over centuries. Yet to this day, no record exists to explain where he came from nor how he was created. Perhaps a clue lies in the nickname given to him by his sponsor, Senator Sertorius: "The Born".
Zach Goodweather: I don't understand. Is that a legend, or is it real?
Abraham Setrakian: The answer to both questions, is yes.
References
Community content is available under
CC-BY-SA
unless otherwise noted.