The Sun Hunters are an association of vampire hunters mandated by the Ancients to fight against the Master and his strain.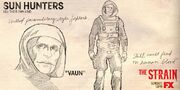 Sun Hunters are charged with conducting expeditions under daylight conditions, hence their name, so daywalkers are recruited to execute daylight operations, otherwise Strigoi members of the Sun Hunters appear to reduce their own exposure to daylight by wearing protective gear.
Enlisted daywalkers comprise the dhampir Quinlan and the human Gus Elizalde. Affiliates of the daywalkers include the Silver Angel and the gang syndicate called the Sapphires led by Alfonzo Creem.
Role in the Books
[
]
In the book series, Gus is the designated Sun Hunter for the vampires, a singular position for which a daywalker is appointed by the Ancients. Moreover, Quinlan served as lead member of the vampires that recruited Gus and shows reverence to the Ancients.
Role in the Show
[
]
In the televised series, the Sun Hunters are presented as a group of vampire hunters that include daywalkers. Vaun replaces Quinlan as the reverential leader of the hunters, while the attitude of Quinlan in relation to the Ancients has been changed to one of audaciousness, even contempt.
In the Season 2 episode, "Identity", Quinlan is instead revealed to be the trainer of the Sun Hunters but, with the demise of Vaun, he personally assumes the role as a Sun Hunter and reinstated Gus under his charge in the episode "Intruders". When Quinlan approaches Gus, he perceives that the shadow of the Master looms over Gus with unpleasant consequences, justifying that Gus continue the fight against the Master.